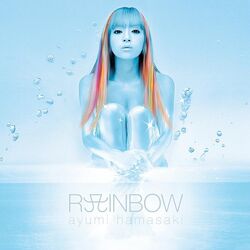 RAINBOW (レインボウ) is Ayumi Hamasaki's 5th studio album on avex trax. It was released on December 18, 2002, less than a year after the album I am... RAINBOW marked the beginning of Hamasaki's writing English lyrics, and is the first album to feature English lyrics.To date the album has sold over 1,858,000 copies and is the 89th best selling album in Japan.
Release Date
Stock Numbers
Tracklist
Edit
Produced by Max Matsuura

All lyrics written by Ayumi Hamasaki
A&R + Directed by: Yasuyuki Tomita (avex trax)
Recordist: Yasuo Matsumoto (ZeeQ), Koji Morimoto, Motohiro Tsuji Satoshi Kumasaka (prime direction inc.) Yuichi Nagayama (SOUND STUDIO DALI) Hiroyuki Shiotsuki (Sony Music Studios Tokyo) Yoichiro Kanou (Mixer's Lab)
2nd Engineers: Takahiro Mikami (avex studio) Kazuo Saimoto, Yukie Sugimoto, Kiyoko Asai (STUDIO SOUND DALI) Makoto Hoshino, Momoko Yamaguchi (JVC Victor Studio) Isamu Hanashima (CRESENTE STUDIO) Yusuke Abe (BAYBRIDGE STUDIO) Mamiko Katakura (ON AIR AZABU STUDIO) Kazutaka Mori (ABS RECORDING) 2nd Engineers: Takayuki Aikawa (HITOKUCHI-ZAKA STUDIOS)
Recorded at: prime sound studio, avex studio azabu, avex studio JVC Victor Studio, CRESENTE STUDIO, ABS RECORDING, prime sound studio form ON AIR AZABU STUDIO, HITOKUCHI-ZAKA STUDIOS
Mixed at: avex studio azabu, BAYBRIDGE STUDIO JVC Victor Studio, prime sound studio form
Mastered by Shigeo Miyamoto at FLAIR
Composers Coordination: Hiroaki Ito, Tadayoshi Matsuzuka, Shigeru Kajita (tearbridge production for axev inc.)
Players Coordination: Fumimasa Sawa, Yoko Sakaki (LS MUSIC CORP Co., Ltd) on tr. 13 Yoji Sugiyama (Witchcraft) on tr 5, 7
Product Coordination: Masaji Asakawa (ARTIMAGE Inc.) on tr. 2, 4, 8, 11, 12
A&R Coordination: Kentaro Furusawa (avex trax) A&R Supervisor: Nobuhito Ikehata (avex trax) Executive supervisor: Daisuke Shimokawa, Katsuro Oshita (avex trax)
Artist Management: Yuka Kikuchi, Junichi Kamitoku, Kouji Hashimoto (axev inc.)
Media Operation: Toshiyasu Takahashi, Mio Omodaka, Mitsuhiro Yokoyama, Makiko Kudo, Junichiro Kawada, Yumiko Kamakura (avex trax) Akira Atsu, Koki Sato & axev inc. Advertisement Division.
Sales Promotion: Taishi Nomura, Kazuo Kosugi Tomoaki Sato & all avex distribution staff
Tie-up Coordination: Masaomi Takagi, Tatsuo Kodama, Datsuke Ogi (avex trax) Shingo Kitagawa (axev inc.)
Advisory Producers: Ryuhei Chiba, Motohiro Abe (axev inc.) Ryuzo Shoji (to max inc.) Yoshihisa Nagata (prime direction inc.)
General Producer: Shinji Hayashi (avex trax)
Specially Coordinated by TOM YODA (avex group)
Art Direction: Shinichi Hara Design: Tsukasa Yagi, Shigeru Kasai (RICE) Creative Coordination: Naoki Ueda (avex trax) Quality Control: Shuichi Takahashi
Photographer: Lesle Kee (FEMME/TOKYO, JEDROOTS/NEW YORK) 3D Computer Graphics: Hajime Asaoka Stylist: Hideo 'Kokomi' Suzue (H), Hiroyuki 'Ushiko' Ishii Assistant Stylist: Tomoko Tahahashi Costume Creator: Akira Noda (workaholic) Hair & Make up: Keizo Kuroda (NEST + Allure) Assistant Hair & Make up: Yoshinori 'barber' Ito Nail Artist: Kanako 'Bancho' Miura Body Double: Atsuko 'Minori' Kubota
Location Coordinator: Lewis Hernandez Ishii (Day O Productions, Inc.) Stanley Izumi Kim (sike)
Respect: Koji Matsumoto (OFFICE an gel), Someko, Hakase, Kosome, Joe, esp, monsieur, Nobita, hanchin, red CHU, TAMOTSU (Too-RUSTIC) CHIKA, Tamachan, Banbi, Taro, Junepi, macchi, Tamosan (artifata) Kazuyoshi Takahashi, Tomoyo Tokura, Shiho Katsumi, Reiko Mogi (ZACC) Koyo First INTERNATIONAL Kazuhiko Toyama, Junko Shimamura, Kiyoshi 'Utsumizm' Utsumi (to max inc) Kazuki 'Mr.' Okabe (prime direction inc.) Katsutaka 'Numatch' Numakura (Nai'a Inc.) Jesse Oba (avex usa) Kenji Otsuka, Tomoyuki 'Johnny' Murayama (avex trax) Kenichiro Hori, Shigeo Fujimoto Ryo 'Sports' Tanaka (axev inc.) Kenju Ueda, Masahiro Muta Hamo Hamo Boys & Girls (jun kitagawa, tasukin, kane, hassy, muttor, kanako, natsuki)
Special thanks: All of you who participated this album... and you
Release
Chart
Peak position
First Week Sales
Sales total
Chart run
December 18, 2002
Oricon Daily Album Chart
1
Oricon Weekly Album Chart
1
1,016,482
1,857,870
22
Oricon Monthly Album Chart
1
Oricon Yearly Album Chart
2
Total Sales : 1,857,870 (Japan)
Total Sales : 2,000,000 (Avex)
Total Sales : 3,000,000 (Asia)
Promotional Materials
Edit