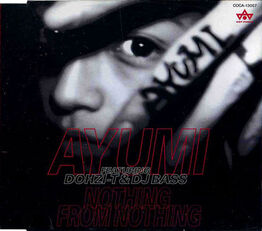 NOTHING FROM NOTHING was the first and only album released by the hip-hop unit AYUMI featuring DOHZI-T and DJ BASS. The group consisted of Ayumi Hamasaki , Mitsuru "Dohzi-T" Takasue, & DJ BASS.
Dohzi-T (also spelled Douji-T) has had a successful solo rap career since about 2001, working with artists such as Koyanagi Yuki, JUJU, Miliyah Kato, CHEMISTRY, and Shota Shimizu.
The album was preceded by a single of the title track, and Ayumi promoted the releases during a quick guest appearance on H.I.P , a pop culture talk show she'd co-hosted the year before. However, neither release charted well - the exact chart placement is currently unknown but the general consensus is that the album either only reached #200 or failed to chart altogether. The unit was dropped from Nippon Columbia as a result.
The album is a very rare find and as a result will go for between 30,000 and 500,000 yen on auction sites.
Release Date
Stock Numbers
Tracklist
Edit
Produced by G.M.KAZ
All song programmed and arranged by Kazuo Ishijima & DJ BASS
Directed by Hideko Omori (Nippon Columbia)
Recorded and Mixed by Naoki Hayami (Bazooka) [M-1,3], Tomokata Takenara (Vincent) [M-2,4,5]
Mastered by Hiroyuki Hosaka (Nippon Columbia)
Recorded and Mixed at Bazooka Studio, P-Studio
Mastered at Nippon Columbia Studio
2nd Engineers: Patch Kitaguchi [M-1,3], Toru Yamazaki [M-2,4,5]
Management Chief: Teruo Kuramoto (Sun Music Production)
Management: Tadayuki Hattori (Sun Music Production)
Artist Promotion: Tetsuya Matsumoto (Nippon Columbia), Toshio Fujiwara (Sun Music Publishing)
Sales Promotion: Jin Saitoh (Nippon Columbia)
Visual Produced by Hide Inoue
Art Direction: Kohji Ohtaishi (PX Creative)
Design: Keita Kamei (PX Creative)
Photograph: Seiichi
Editor: Rurika Takegawa (Nippon Columbia)
Hair: Yoshihisa Tokunaga
Make: Kazumi Asai
Stylist: Youka Gotoh
Custom Support: R.S.C, CAROL-II, Blue Nile Nail, Club Choice, Matsumoto
Supervisor: Shinji Sawada (Factory), Katsuaki Aoki (Sun Music Publishing)
Executive Producer: Nobuhiko Miyazawa (Nippon Columbia), Masako Sugimura (Sun Music Publishing)
Senior Executive Producer: Junzaburo Ishizuka (Nippon Columbia), Tadayoshi Wagatsuma (Sun Music Production)
X Special Thanks: Shimizu Visual, Junya Masuyama, Kenji Fujishiro, Yoshi (B.I.G), Myuusya, Toshohiko Yamaoka (Factory
XX Special Thanks: Tokyo-Z-Family, All Hiphop Lovers, and our friends