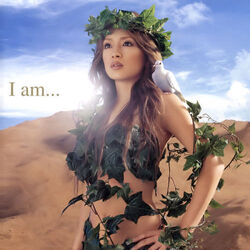 I am... (アイ・アム) is Ayumi Hamasaki's fourth original studio album on avex trax.
The album's visual concept, one of Ayu as a "goddess of peace" with a white dove accompanying her, is influenced by Hamasaki's feelings following the September 11th attacks. A different concept (one Hamasaki described as "flashy") had been planned as of September 11th, and the photo studio time reserved; however, once the attacks took place, Hamasaki changed her mind on the concept.
The album includes "Connected", a collaboration with European Trance music producer Ferry "System F" Corsten. The song would go on to be Hamasaki's first single released in Europe.
Most of the tracks on the album are composed or co-composed by Hamasaki under the penname "CREA." As usual, Hamasaki has written the lyrics to every song.
Release Date
Stock Numbers
AVCD-17037 (Japan)
AVTCD-95550 (Hong Kong)
AVJCD-10100 (Taiwan)
Tracklist
Edit
Sound Produced by Naoto Suzuki
Production Assistant: Yuka Akiyama (prime direction inc.) on tr. 4,5,7,11,13
A&R + Directed by Yasuyuki Tomita (avex trax)

Recordist: Atsushi Hattori, Noriki Inada (Hi Five)
Motohiro Tsuji (prime direction inc.)
Satoshi Kumasaka (STUDIO SOUND DALI)

2nd Engineer: Yukie Sugimoto (STUDIO SOUND DALI)
Ryosuke Kataoka (avex STUDIO)
Kataoka (avex STUDIO AZABU)
Takayuki Furuta (Sony Music Studios)
Yutaka Yamamoto (JVC VICTOR STUDIO)
Taketoshi Nakauchi (birdie house)
Atsushi Yamamoto (Hitokuchizaka Studio)

Recorded at prime sound studio, STUDIO SOUND DALI,
Now-A-Days ATTIC, electric sheep STUDIO
avex studio AZABU, Sony Music Studios

Mixed at STUDIO SOUND DALI, avex STUDIO AZABU,
JVC VICTOR STUDIO, Bunkamura Studio,
Hitokuchizaka Studio
Mastered by Shigeo Miyamoto at FLAIR

Composers Coordination: Hiroaki Ito, Shigeru Kajita, Kazuki Muraishi (axev inc.)
Noritoshi Fujimoto (BABY ATLANTIC)
Players Coordination: Yumi Kobayashi (B:ZAR)
Nobby Uno, Cooney Kotani (avex trax) on tr.3
Masaji Asakawa (ARTIMAGE INC.) on tr. 4,5,11
Kazumi Yanagi (avex trax), Kento Ohki (axev inc.)
Riki Nishimura (OASIS) on tr.12
S&R Coordination chief: Nobuhito Ikehata (avex trax)
A&R Supervisor: Hidemi Arasaki (avex trax)
Executive Supervisor: Katsuro Oshita (avex trax)
Artist Management: Yuka Kikuchi (axev inc.)
Junichi Kamitoku (axev inc.)
Koji Hashimoto (axev inc.)
Artist Promotion: Toshiyasu Takahashi
& avex Domestic Repertoire Promotion Dept.3
Akira Akutsu & axev inc. Advertisement Division
Sales Promotion: Tomotsugu Ota, Kazuo Kosugi, Akihiro Terada,
Yasuhiro Yamamoto & All avex distribution Staff
Tie-up Coordination: Masaomi Takagi, Tatsuo Kodama,
Daisuke Ogi, Kentaro Koike (avex trax)

Advisory Producers: Ryuhei Chiba, Motohiro Abe (axev inc.)
Ryuzo Shoji (to max)
Yoshihisa Nagata (prime direction inc.)

General Producer: Shinji Hayashi (avex trax)

Specially Coordinated by Tom Yoda (avex group)

Package Design
Art Direction: Shinichi Hara
Design: Shigeru Kasai (RICE)
Creative Coordination: Naoki Ueda (avex trax)
Quality Control: Shuichi Takahashi (avex trax)

Photographer: Toru Kumazawa
Fashion Director: Koji Matsumoto
Costume Creator: Akira Noda (worka holik)
Sudo Art Creators
Assistant Stylist: Hiroshi "Nobita" Dendo
Souhei "Hanchin" Nakahashi,
Naoku "Fuji-king" Fujiki
Hair & Make up: CHIKA (artifata)
Assistant Hair & Make up: Shunsaku "macchi" Shoji (artifata)
Nail Artist: Kanako "Bancho" Miura
Stand In: Atsuko "Minori" Kubota
Set up Coordinator: Yamazaki Art

Special Thanks: CHU, Tamotsu (Too-Rustic), Someko, Hakase, Kosome,
Joe, esp., Ushiko (OFFICE an'gel),
Tamachan, Banbi, Taro, Junpei, Tamosan (artifata)
Kazuyoshi Takahashi, Tomoyo Tokura, Shiho Katsumi (ZACC)
Kazuhiko Toyama, Junko Shimamura (Premium-Promotion)
Kenji Otsuka, Tomoyuki "Johnny" Murayama (avex trax)
Shigeo Fujimoto, Ryo "Sports" Tanaka (axev inc.)
Kiyoshi "Utsumizm" Utsumi (to max)
Kazuki "Mr." Okabe (prime direction inc.)
hamohamo Boys (Takuya, Arikun, Fujiyama, Ani, Jun, Tommying)
Ryo Owatari a.k.a Do As Infinity
Kenichiro Hori (axev inc.) Koyo First INTERNATIONAL

Special Thanks: All of you who participated this Album
Oricon Sales Chart (Japan)
Release
Chart
Peak position
First Week Sales
Sales total
Chart run
January 1, 2002
Oricon Daily Album Chart
1
Oricon Weekly Album Chart
1
1,751,360
2,308,112
25
Oricon Monthly Album Chart
1
Oricon Yearly Album Chart
2
Total Sales: 2,308,112 (Japan)
Total Sales: 3,000,000 (Avex)
Total Sales: 4,000,000 (Asia)
"When I make my albums, I always work from a theme, but this time, there was just about no time to work on that, I couldn't go into it starting from a theme... partway through making the album, I did notice that it had no real sense of unity, and it made me really impatient." --beatfreak magazine
(On the album's title) "Of course there was the whole 'projecting my true self' mood that 'I am...' came from, but that's not all it was. ...I think this is an era in which 'faceless people (personalityless, accomodating people)' are everywhere. But I don't think it's an extremely sad thing. ...Simply put, I really want to know the answer to the '...' part of 'I am...'. The '...' that says 'You are so-and-so, aren't you? So, who is that exactly?' People might hear the title 'I am...' and think to themselves 'I am... what?' and that's why I chose it." --beatfreak magazine
"I had a hard time writing the lyrics. But giving birth is always painful, so bringing this album into the world was also, but I wasn't alone this time. Compared to the past, especially! So far, there was always a feeling of 'I'm working on this' meaning 'I'm facing myself alone', you know, 'Working in solitary is nice and simple,' but this time there wasn't anywhere near that sort of 'private, private' feeling. So it was very enjoyable. I wasn't nearly as tense doing it that way. I think it had a rough feeling because so much weight came off my shoulders, and for good reason." --beatfreak magazine
"For the album jacket... I took alot of things into consideration, but determined it'd be best to not decorate the album with extraneous things this time. So I went with a 'natural' look." --beatfreak magazine
Promotional Materials
Edit
Lucky Draw Prizes
Edit
For several of Ayumi Hamasaki's albums, record stores gave out special prizes to reward early purchasers on release day. People who purchased the album would recieve a random ticket from a box, each with a letter printed on it. The purchaser would then be given the corresponding prize for that letter.