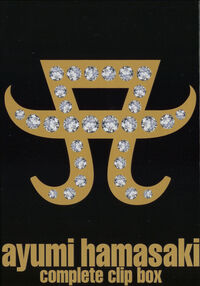 ayumi hamasaki complete clip box is a 3-DVD box set of all of Ayumi Hamasaki's promotional music videos up until the release of her 30th single, forgiveness, in late 2003.
Despite the box set's release in early 2004, the videos included on Memorial address (released in December 2003) are not included.
The box set is among the releases & events intended to celebrate Ayu's 30th single release. (There are 30 diamonds pictured within the A logo on the cover, to commemorate the 30 singles.) It was released the same day as the home video release of A museum ~30th single collection live~.
Release Dates:
Edit
25 February 2004 (Japan DVD)
12 March 2004 (Taiwan DVD)
28 February 2005 (Hong Kong DVD)
Stock Numbers:
Edit
AVBD-91181 (Japan DVD)
AVJDV56011/3 (Taiwan DVD)
AVTDVD-057 (Hong Kong DVD)
Track Listing
Edit
poker face
YOU
Trust
For My Dear...
Depend on you
A Song for XX TV-CM A Song for XX version
A Song for XX TV-CM POWDER SNOW version
A Song for XX TV-CM 5 singles version
WHATEVER version M
WHATEVER version J TV-CM
ayu-mi-x TV-CM
LOVE~Destiny~
TO BE
Boy s& Girls
A TV-CM
A Film for XX TV-CM
appears
LOVEppears TV-CM New York version
LOVEppears TV-CM 6 singles version
kanariya
Fly high
A clips TV-CM
ayu-mi-x II TV-CM
vogue Far away SEASONS
SURREAL
Duty TV-CM Panther version
Duty TV-CM 6 tracks version
AUDIENCE TV-CM
M
evolution
NEVER EVER promotional clip
ayu-mi-x III TV-CM
A BEST TV-CM x7
Endless sorrow
UNITE! promotional clip
Dearest
Dearest Acoustic Piano Version
I am... TV-CM I am... version
I am... TV-CM 6 singles version
Connected
ayu-mi-x 4 TV-CM
Daybreak
Free & Easy
H TV-CM
Voyage
RAINBOW TV-CM RAINBOW version
RAINBOW TV-CM 5 tracks version
Real me
RAINBOW
A BALLADS TV-CM x6
& ourselves
& Greatful days
& HANABI ~episode II~
forgiveness
produced by max matsuura
A&R + Directed by Yasuyuki Tomita (avex trax)
Visual Producer: Kiyoshi "Utsumizm" Utsumi (to max)
A&R Coordination: Kentaro Furusawa (avex trax)
A&R Chief: Nobuhito Ikehata (avex trax)
Executive Supervisor: Daisuke Shimokawa, Haji Taniguchi (avex trax)
Artist Management: Yuka Kikuchi, Junichi Kamitoku, Kouji Hashimoto (axev inc.)
Media Operation: avex Media room & Promotion room, 2nd A&R/Promotion Dept.
Akira Akutsu, Koki Sato & axev inc. Advertisement Division
Sales Promotion: Taishi Nomura, Kazuo Kosugi, Tomoaki Sato & All avex distribution Staff
Advisory Producer: Motohiro Abe (axev inc.), Ryuzo Shoji (to max), Yoshihisa Nagata (prime direction, inc.)
General Producer: Shinji Hayashi (avex inc.), Ryuhei Chiba (axev inc.)
Specially Coordinated by Tom Yoda (avex group)
Art Direction: Shinichi Hara
Design: Takuma Noriage (RICE)
Creative Coordination: Naoki Ueda (avex inc.)
Quality Control: Shuichi Takahashi (avex inc.)
Special Thanks to
PHOTOGRAPHER (CD JAKET): Hiroshi Nomura, Toru Kumazawa, Keita Haginiwa, Toru Kogure (Studio White), Mitsuo Yamamoto (Super Continental), Leslie Kee (Femme/Tokyo, Get Root/New York), Me Company
ILLUSTRATOR (CD JAKET): Tadashi Ura
DVD AUTHORING: Yuka Matsuki, Naoya Munemura (avex network)