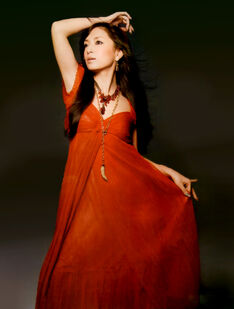 New pages
The Ayumi Hamasaki Wiki is exactly what it says on the tin - an online encyclopedia dedicated to Ayumi Hamasaki, her music, her shows, her appearances, her staff, and everything else Ayu-related. Anyone can edit this Wiki, but please be respectful and accurate when doing so!
Ayumi Hamasaki
Edit
Ayumi Hamasaki (浜崎あゆみ, Hamasaki Ayumi) is a Japanese pop singer, lyricist, composer, and occasional model and actress. Hamasaki is best known for her optimistically melancholic song style, personal lyrics, unique and trendsetting fashion sense, and devotion to her fans. She made her debut as an idol in 1994, retiring from the profession in 1997. She was discovered by Matsuura Masato later on, and finally debuted as a solo singer under avex trax in April 1998. Since then she has written lyrics for nearly 200 songs, released 50 singles and 13 full-length albums, and has a fan club with over 200,000 members as of September 2010. She has broken (and still holds) several sales records in Japan.
Editing Guidelines - Read Before Doing ANY Editing!
Edit
This website uses Japanese encoding ONLY when absolutely necessary (i.e. Japanese titles, symbols for which there is no western encoding equivalent). While it is recommended that you have Japanese language support installed before proceeding, when editing, use WESTERN ENCODING whenever possible! (e.g. ~ instead of ~, XX instead of ××, ! instead of !). This standard increases readability for those unable to install Japanese language fonts, and increases compatibility between browsers and systems.
While this wiki does not yet require citations, as it is still young, we ask that you please not include any details that could be untrue. If you're not 100% sure, don't add it. Only include information you remember from a factual source such as Ayu's official website, Ayu's twitter, Ayu's blog, magazine interviews, or TV interviews. Include quotes from Ayu if applicable, possible, or reasonable to do so.
The format for the earliest built pages should become the standard for all album and single pages. Please refer to the pages for Ayu's older albums and, for best results, copy and paste the format for new pages, and simply fill in the blanks.
If everyone follows these basic style guidelines, we should have a nice wiki! Thanks for your help in keeping this wiki clean, readable, and accurate!