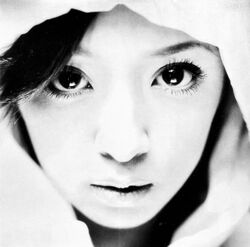 A Song for XX (エー・ソング・フォー) is Ayumi Hamasaki's debut album on avex trax. The official release date was January 1, 1999, but the album physically hit record stores on December 26th. The album debuted at the top of the Oricon Charts and remained there for five weeks. Its official first-week sales number was 548,210 copies sold, due to the fact that Oricon only has 51 weeks instead of 52, and sales from the last week of one year and the first week of the next are combined into one sales week. The album stayed on the charts for 63 weeks and eventually went on to sell a more than a million copies. As of 2008, A Song for XX is the Japan's 139th best selling album of all time.
The album was recorded between September and December of 1998.
Release Date
26 December 1998 (in stores)
1 January 1999 (Official)
Stock Numbers
AVCD-11691 (Japan)
AVTCD-95224 (Hong Kong)
SCD-822 (China)
CL-0650 (China Cassette)
AVJCD-10008 (Taiwan)
AVJMC-10008 (Taiwan Cassette)
Tracklist
Edit
Produced by Max Matsuura
Sound Produced by Naoto Suzuki
Musicians:
Recorded by Atsushi Hattori (STUDIO SOUND DALI) and Koji Morimoto (track16)
Recorded at Prime Sound Studio Aoyama, STUDIO SOUND DALI, Tower Side, Conway Studio LA
Mixed by Atsushi Hattori except track16 mixed by Koji Morimoto at STUDIO
SOUND DALI, Bunkamura Studio, and Prime Sound Studio
Assisted by Noriki Inada, Satoshi Kumasaka, Shuichi Watanabe, Tony Flores
Production Assistant: Yuka Akiyama (Prime Direction)
Production Coordination in Los Angeles: Susan Brill (Musicwerks)
Mastered by Eddy Schreyer at Oasis Mastering, Studio City
Advisory Producers: Ryuzo Shoji (prime direction)

Yasuo Shibata, Ryuhei Chiba, Ayumu Kurose (axev inc.)
General Producer: Shinji Hayashi (avex trax)
Specially coordinated by Tom Yoda (avex group)
Special Thanks to:
Toyama, O-tsaka, sigechan, Johnny
Dice, and my family...
Oricon Sales Chart (Japan)
Release
Chart
Peak position
First Week Sales
Sales total
Chart run
January 1, 1999
Oricon Daily Albums Chart
1
Oricon Weekly Albums Chart
1
548,210
1,451,910
63
Oricon Monthly Albums Chart
1
Oricon Yearly Albums Chart
15
Total Sales: 1,451,910 (Japan)
Total Sales: 2,500,000 (Asia)
The "A" in "A Song for XX" is both the "A" in Album, and the "A" in Ayu. As for the "XX", listeners can insert their favorite thing, the name of a person they care about, something like that. All that matters is that listeners imagine something there. Inside Ayu, there is only one meaning applied to the "XX". But, since everyone who listens will have different ideas as to who that song is about, I didn't want to limit the definition of "××" by specifying its meaning to me, so listeners can themselves attach a meaning to it easily.:-Ayumi Hamasaki, beatfreak Magazine
I was singing "For My Dear..." on TV, recording the album, then singing on TV again & again with "Depend on you". It was just singing, singing, singing every day, haha! So there are some songs where my voice got scratchy for a bit.:-Ayumi Hamasaki, beatfreak Magazine
Promotional Materials
Edit