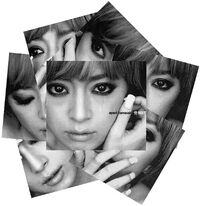 A BEST is Ayumi Hamasaki's first best-of compilation album. Hamasaki hand-chose the tracklist herself, re-recording several tracks. Hamasaki engaged in heavy promotion for the album, including live television performances and photo shoots for more than 30 different magazines. Utada Hikaru's Distance album was released the same day, and the resulting "rivalry" was covered extensively in the media, despite no true rivalry between the two singers.
The first edition of the album was housed in a slipcase. Upon removal of the slipcase, the jewel case booklet was printed with one of six random cover photos. The purchaser did not know what version they had until it was unwrapped and opened. Later editions of the album are packaged in a jewel case with an obi, and the cover is the common slipcase cover from the first edition.
According to the NTV documentary "Hamasaki Ayumi: Light and Shadow, Despair and Decision at age 25," Hamasaki was startled by avex trax's demand that she release this compilation. The re-recording of several songs and the cover image of Hamasaki shedding a tear are Hamasaki's expressions of defiance against the label.
A BEST went on to sell more than four million copies. It is Hamasaki's highest-selling album to date.
Release Date
Stock Numbers
AVCD-11950 (Japan)
AVTCD-95461 (Hong Kong)
SCD-555 (China)
AVJCD-10080 (Taiwan)
AVJMC-10080 (Taiwan Cassette)
SMJTCD-140 (Korea)
Tracklist
Edit
Produced by max matsuura
A&R + Directed by: Yasuyuki Tomita (avex trax)
Sound Producer: Naoto Suzuki
Production Assistant: Yuka Akiyama (prime direction inc.) on tr. 3, 5, 8, 10
Recordist: Koji Morimoto, Motohiro Tsuji, Satoshi Kumasaka (prime direction inc.)
2nd Engineers: Takahiro Mikami (avex studio
Recorded at: prime sound studio, CRESENTE STUDIO, JVC VICTOR STUDIO, STUDIO SOUND DALI, BAYBRIDGE STUDIO
Mixed at: avex studio azabu, BAYBRIDGE STUDIO, JVC Victor Studio, prime sound studio form
Mastered by Shigeo Miyamoto at FLAIR
Composers Coordination: Hiroaki Ito, Tadayoshi Matsuzaka,
Players Coordination: Fumimasa Sawa

Yoko Sakaki (LS MUSIC CORP Co., Ltd) on tr. 13
Yoji Sugiyama (Witchcraft) on tr. 5, 7
A&R Coordination: Kentaro Furusawa (avex trax)
A&R Supervisor: Nobuhito Ikehata (avex trax)
Artist Management: Yuka Kikuchi, Junichi Kamitoku, Kouji Hashimoto (axev inc.)
Media Operation: Toshiyasu Takahashi, Mio Omodaka, Mitsuhiro Yokoyama,

Makiko Kudo, Junichiro Kawada, Yumiko Kamakura
Akira Atsu, Koki Sato & axev in. Advertisement Division.
Sales Promotion: Taishi Nomura, Kazuo Kosugi,

Tomoaki Sato & all avex distribution staff
Tie-up Coordination: Masaomi Takagi, Tatsuo Kodama,

Datsuke Ogi (avex trax), Shingo Kitagawa (axev inc.)
Advisory Producers: Ryuhei Chiba, Motohiro Abe (axev inc.)
Ryuzo Shoji (to max inc.), Yoshihisa Nagata (prime direction inc.)
General Producer: Shinji Hayashi (avex trax)
Specially coordinated by TOM YODA (avex group)
Art Direction: Shinichi Hara
Design: Tsukasa Yagi ( RICE)
Creative Coordination: Naoki Ueda (avex trax)
CG Treatment: Makoto Harikae, Hiroko Tanaka
Quality Control: Shuichi Takahashi
Assistant Photographer: Hajime Kamiisaka, Yositeru Aimono (H.Y.D.P.)
Stylist: Hideo 'Kokomi' Suzue
Assistant Stylist: Tomoko 'Yukinko' Takahashi
Costume Creator: Akira Noda (workaholic)
Hair & Make Up: Keizo Kuroda (NEST)
Assistant Hair & Make up: Yoshinori 'barber' Ito (NEST)
Nail Artist: Kanako 'Bancho' Miura
Body Double: Atsuko 'Minori' Kubota
Props Stylist: Hiromi 'ROMI' Yamada
Props Support: EISHIN, pour annick
Situation: INTERCONTINENTAL TOKYO BAY
Location Transport: Katsutaka 'Numatch' Numakura, Naoki Saito (Nai'a Inc.)
Respects: Koji Matsumoto (OFFICE an-gel)
Someko, Yuki, Yushiki, Hakase, Kosome,
Joe, esp, monsieur, Nobita,
hanchin, Ushio, Fujiking, Red,
CHU, TAMOTSU (Too-RUSTIC)
Junepi, macchi, Tamosan (artifata)
Kazuyoshi Takahashi, Tomoyo Tokura,
Shiho Katsumi, Reiko Mogi (ZACC)
Koyo First INTERNATIONAL
Kazuhiko Toyama, Junko Shimamura,
Kiyoshi 'Utsumizm' Utsumi (to max inc)
Kazuki 'Mr.' Okabe (prime direction inc.)
Jesse Oba (avex usa)
Kenji Otsuka, Tomoyuki 'Johnny' Murayama (avex trax)
Kenichiro Hori, Shigeo Fujimoto (axev inc.)
Special thanks: All of you who participated this album... and you <3
Oricon Sales Chart (Japan)
Release
Chart
Peak position
First Week Sales
Sales total
Chart run
March 28, 2001
Oricon Daily Singles Chart
1
Oricon Weekly Singles Chart
1
2,874,870
4,301,353
52
Oricon Yearly Albums Chart
2
Total Sales: 4,301,353 (Japan)
Total Sales: 6,750,000 (Asia)
I wasn't able to release the album in the way I thought... My best album was something I'd dreamed of doing my way, and I'd hoped I could do it my way. But all of a sudden, one day the company told me "Your Best-Of album has to come out in this month, and on this day... I was just so shocked. I thought they had to be kidding.

-Ayumi Hamasaki, NTV
Promotional Materials
Edit
Lucky Draw Items
Edit